Planned Giving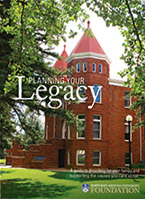 Request your FREE Wills Planning Guide
The Heritage Society is a special group of NAU supporters who have included the NAU Foundation in their estate plans, such as a bequest, beneficiary, life insurance, charitable gift annuity or charitable trust. If you are interested in creating a planned gift for the benefit of NAU or have already done so, please let us know so we can provide you any information you may need, and thank you personally for your generosity!
Northern Arizona University
PO Box 4094
Flagstaff, AZ 86011
Telephone: 928-523-2395
Our Staff

C. Mark Matthews
Director of Gift Planning
928-523-2395
mark.matthews@nau.edu
Although he was born and raised in Texas, Mark got to Arizona as soon as he could. Having a background in Finance and Real Estate, Mark served as a Planned Giving Officer for 8 years for the Texas A&M Foundation before joining NAU as the Director of Gift Planning. Mark has two children, a son who is an Engineer in Houston, and a daughter who is enrolling in graduate school at NAU in the fall of 2016. He has been overwhelmingly impressed by the passion that NAU alumni and donors feel toward NAU, and for their desire to change the lives of students at NAU through their planned gifts. "I truly enjoy working with NAU alumni and donors who want to leave a legacy through a planned gift to NAU. We work hard to build up assets over our lifetimes, and I have found that NAU donors are just as passionate and hardworking when it is time to start thinking about leaving a legacy that will change the future of NAU and the lives of future NAU students."

Shannan Rice
Administrative Associate
928-523-3152
shannan.rice@nau.edu
Shannan is responsible for all planned giving marketing endeavors and serves as the administrative backbone for the Department of Gift Planning. She has been a part of the Flagstaff community since 1999 and is proud to call it home. Shannan loves hiking, camping and spending time with her family in the great outdoors. "I have met the most incredible people since becoming a part of the Gift Planning team. I love getting the opportunity to help people establish their legacy with NAU. Lumberjack pride is like nothing I've ever experienced before and I'm so honored to be a part of it!"
Contact the Office of Gift Planning
Thank you for your interest in a planned gift for NAU. Mark and Shannan look forward to visiting with you soon!