Planned Giving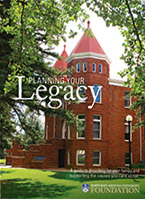 Request your FREE Wills Planning Guide
The Heritage Society is a special group of NAU supporters who have included the NAU Foundation in their estate plans, such as a bequest, beneficiary, life insurance, charitable gift annuity or charitable trust. If you are interested in creating a planned gift for the benefit of NAU or have already done so, please let us know so we can provide you any information you may need, and thank you personally for your generosity!
Reset Your Password
Please take the time to provide us with a new password. Enter your email address to begin the process of resetting your password.

Your password has been successfully reset. We have sent you an email with a temporary password. Please login as soon as possible to complete your password reset procedure.

Click here to login to the manager with your temporary password.

Your email address was not found in our system. Please enter a new email address above or click here to register for a new Crescendo user account.